---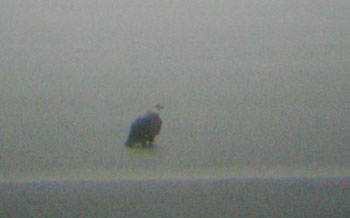 Adult bald eagle on the ice on Panther Pond. Photo courtesy of Warren Bennett.
According to Warren, there was a juvenile eagle, too, which he didn't get in the photo.
Here at Panther Pond, we get a mix of suburban and forest species. At certain times of year, you may catch birds migrating to and from the arctic and the northern forests of Canada. If you keep a sharp eye out, you might even spy our resident bald eagles. Occasionally, a European bird may even take a wrong turn at the Arctic Circle and end up in this neighborhood.
When spring-summer conditions are right, there may be one or more loon chicks on the lake. Loons "visit" from lake to lake, and some days you may see none, while other days there could be a dozen or more.
(Note: additional information for this page from experienced birdwatchers is invited.)